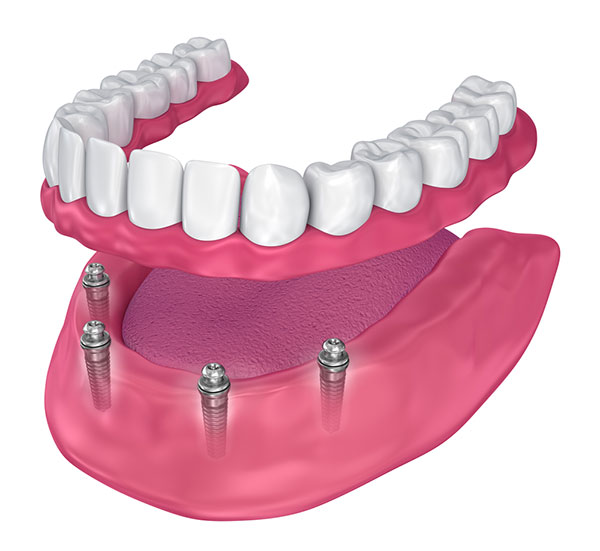 Implant Denture
The preferred method of tooth replacement is the dental implant. In short, dental implants are a substitute for tooth roots, and form a stable foundation for the permanent replacement of teeth, and the best way to restore your natural smile.
Dental implants form a stable foundation of support for full and partial dentures, as the implants integrate with the bone to act as an anchor for the denture.
Implant-retained dentures are more stable and natural feeling than most types of dentures.
Dentures on implants can be removable or non-removable types.
Implants are a proven restoration option with a long clinical history and an excellent success rate.
Experience the stability and feel of a real smile, and ask your denturist at Dundas Denture clinic if dental implants are right for you.
---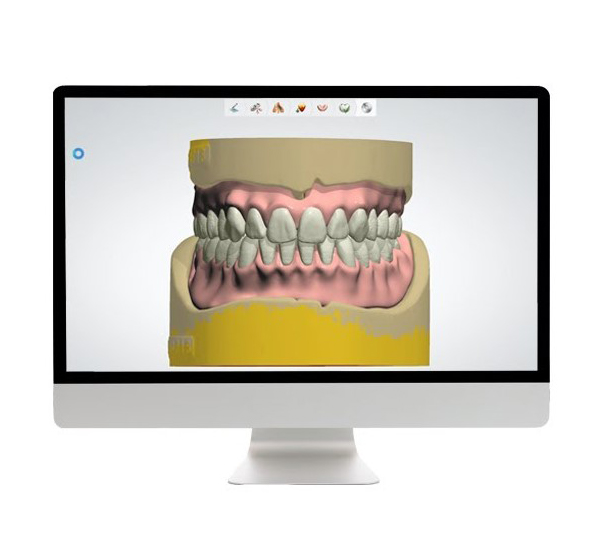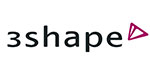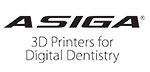 Digital Dentures -The FUTURE is now!
The latest advancement in this technology has truly changed the way dentures are designed. Dundas Denture Clinic is proud to be a provider of digitally designed dentures, we can create a computer-precision fit with exceptional function and computer aided aesthetics.
The secret behind digital dentures is the powerful software used to help assist in the design of your new smile, as well as in the manufacturing process either 3D-printing or Milling of your dentures.
Digital denture technology creates dentures that can be made quickly and efficiently. Data is taken from either Scanning in your existing dentures as a reference or from impressions taken that are brought into software to aid in design that we can mimic or improve the esthetics, fit and function.
With our in-house 3D-printer, we can produce a prototype for you to take it for a trial -run. Afterwards your feedback is incorporated into the software and your designed denture is finalized before it is manufactured. By using this process, Digital Dentures have been proven to be a much more comfortable fit compared to traditional dentures as errors in material shrinkage are eliminated by the superior fit and density of milled-dentures.
We store your records digitally, so in case your dentures are ever lost or broken, we can quickly replace your dentures with a click of a button without having to start from scratch by taking impressions etc. This streamlined process gives patients peace of mind as there is always a digital copy on hand that is backed up and saves you time in obtaining replacement dentures.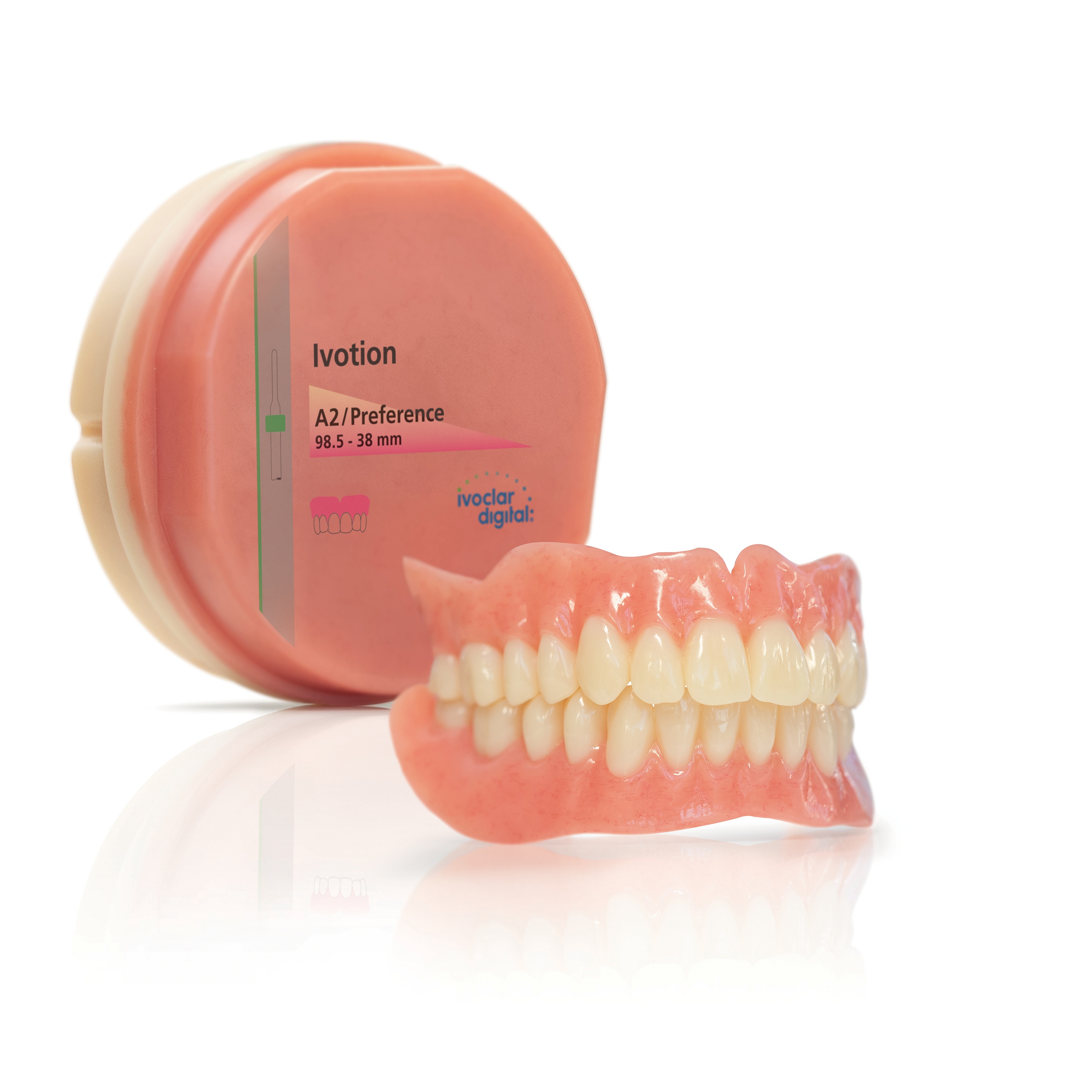 ---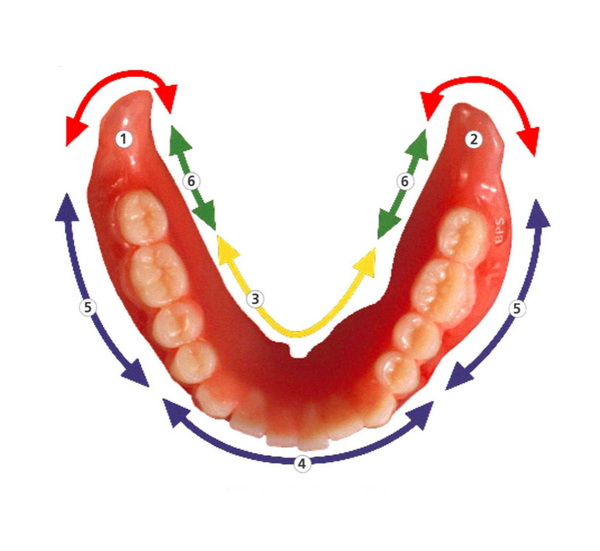 Lower Suction Dentures (SEMCD)
Suction Effective Mandibular Complete Dentures or Lower Suction Dentures is a revolutionary impression technique developed by Dr. Jiro Abe from Japan, to help stabilize lower dentures when dental implants are not an option. It is a specialized technique to help capture specific muscle movements in which the peripheral borders of the lower denture are sealed through the oral submucosa (oral tissue) and thus lower suction is achieved.
The overall construction of suction dentures adheres to the Biofunctional Prosthetic System (BPS®) philosophy, which utilizes the highest quality of materials and precision techniques to produce superior crafted dentures.
This process begins with a Free Consultation and careful Oral Examination to see if suction dentures are right for you.
Preliminary impressions are taken using two-step precision alginates (impression material) which a lower FCB (Frame Cut-Back Tray) specifically designed for lower dentures are used.
Functional final impressions are recorded with a Gnathometer, which also include gothic arch pin tracing to capture natural muscle movements and record your bite.
Models of your mouth will be analyzed and teeth are positioned based on BPS model analysis to achieve better stability with your dentures while in use. These then get factored and incorporated into the overall design of your new dentures.
During your Try-in appointment, you will have a preview at how your new dentures will look and feel. Your dentures are then processed with High impact injection acrylic are used to ensure your dentures have the most accurate fit possible.
Results do vary from person to person but there is always improved fit and function.

---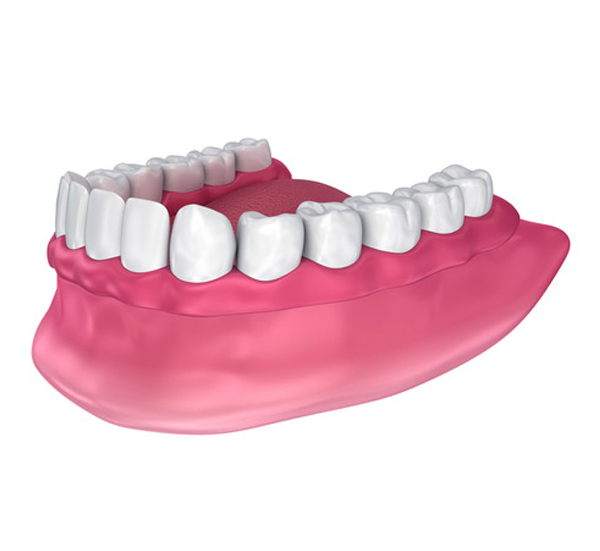 Complete Dentures
Standard dentures may chew well and fit comfortably, but they are constructed for the average patient using standard basic techniques and materials.
Denture patients with oral tissues that have shrunk or who have unusual jaw relationships (bite) may require a personalized denture that uses premium materials and precision techniques.
Premium personalized dentures are of the highest quality, instill confidence, and provide optimum function while eating, speaking or laughing.
In order to fully customize the dentures, precision techniques are used to not only form an impression of your jaw but also record specific jaw movements and facial information unique to you. This way, the character of your smile is recreated to match the original contour of your lips and facial muscles as much as possible.
---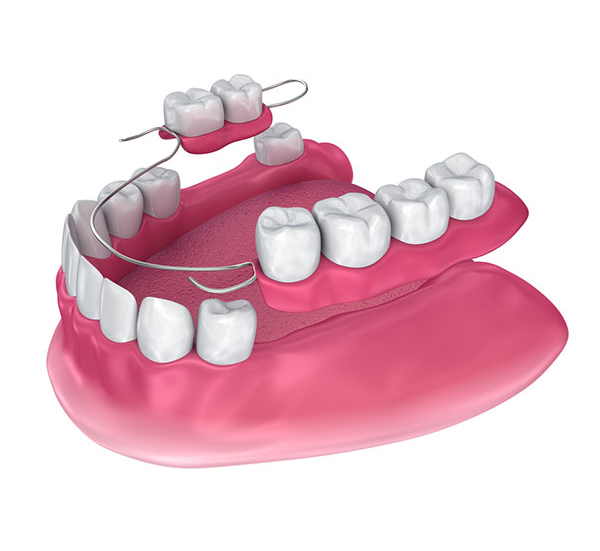 Partial Dentures
A removable partial denture is usually made to replace one or more teeth, and is customized to restore a person's natural appearance and greatly improve the ability to chew and speak clearly, and can be combined with dental implants to further enhance the stability and feel of your natural smile.
A partial denture may be tooth-supported or tooth-and-tissue-supported. There are significant differences between these two types of dentures. These differences are best explained by your denturist. The number of teeth remaining, the position and the stability of the teeth are only a few of the factors that help to determine what style or type of partial denture would be best for you.
Partial dentures are available in cast-metal, acrylic, or flexible Valplast.
---
Immediate Dentures
Immediate dentures are used when you need to have one or more teeth extracted but do not want to be left without dentures while you recover. An immediate denture can also help speed healing of extraction sites. This type of denture is made before your teeth are removed and is inserted directly following your dental extraction appointment and is continued to be worn during the healing phase.
While immediate dentures offer a great solution to help you maintain your smile immediately following your teeth extractions, they are not without limitations. When natural teeth are removed, the underlying bone will begin to shrink (resorb) rapidly. Your immediate dentures will need to be adjusted to compensate for this shrinkage, and periodically your denturist will apply a tissue conditioner to bridge the gap in the areas where your bone has shrunk.
This will continue until your bone shrinkage slows down and you are ready for a permanent reline of your denture. Oftentimes, an immediate denture will be referred to as a transitional denture, and a permanent denture will be made after the extraction sites have healed and your bone has stopped shrinking at a rapid rate.
Creating a new permanent denture will allow your denturist more ability to customize the look of your denture to suit you, as it will no longer be limited for space by the initial size of the bone prior to the extractions.
---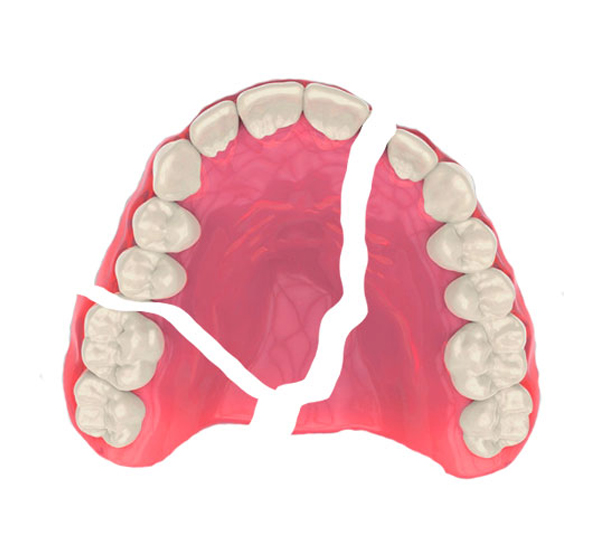 Emergency Denture Repair
Dundas Denture Clinic provides custom professional repair services for all types of dentures and in some cases, we can complete an emergency repair while you wait! Our denture clinic has a denture lab on-site to perform any denture repair done on the same day. Repairs may be required when breakage or chipping occurs, when one or more teeth need to be added to an existing denture (due to tooth extraction) or because of wear and tear. Dundas Denture Clinic is your go to place for all your emergency needs. We will always help you with your denture emergency!
---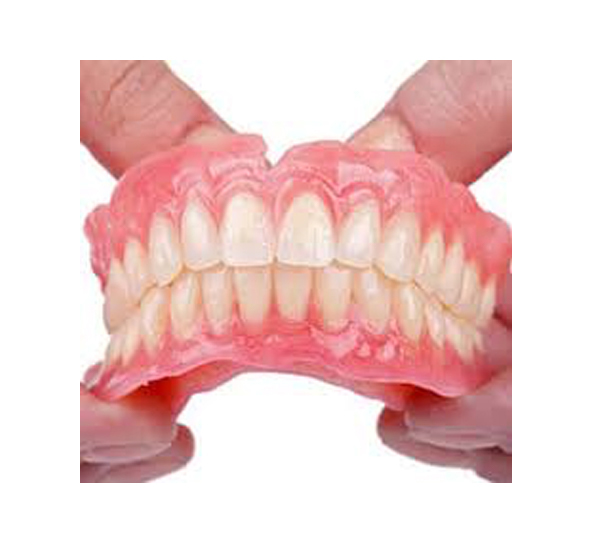 Reline & Rebase
If your dentures are looking worn, it doesn't always mean you need new ones! Dundas Denture Clinic may be able to restore your denture to their full function.
Dentures should fit comfortably without the use of adhesives. If you find you need an adhesive, it may be a sign that your mouth has changed due to loss of weight, bone, teeth or normal aging that causes our gums to shrink and it is time to have your dentures relined.
A Reline adds new base material to help the dentures fit better. While it will change the fit of the denture, it will not change your appearance. Relines are done when there is a change in gum tissue from weight loss, tooth loss, bone loss, aging or illness.
Dundas Denture Clinic offers Reline as a same-day service.
A Rebase is usually done when the denture teeth have not worn out in comparison to the denture base material. It is a process of retrofitting dentures by replacing the entire denture base with new acrylic denture base. This is particularly helpful for patients who experience chronic soreness in their gums from wearing dentures.
---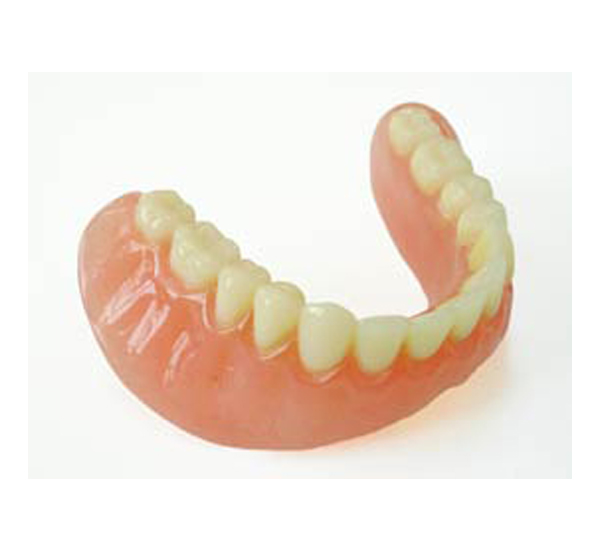 Soft-Liner Alternative
A soft liner is most often placed in a lower denture and acts as a cushion against the tissues in the lower jaw. This helps displace pressure, minimizing chronic soreness on the gums, and can even help the fit in certain situations.
---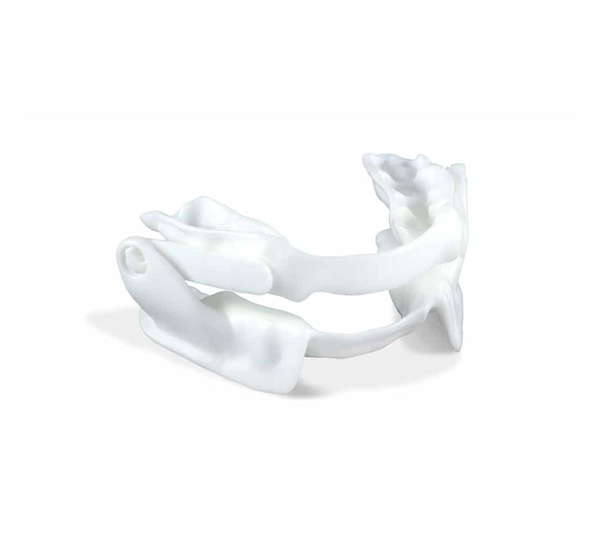 Anti-Snoring Appliance
Estimates say about 50 per cent of the population snores on a regular basis. While snoring can be annoying to others, heavy snoring can be a sign of sleep apnea that's associated with hypertension, stroke and other related problems.
If you or your partner reports interrupted sleep, excessive sleepiness during the day, headaches in the morning, or snoring, then an anti-snoring device might be the solution. The denturist will fit you with a small and easy-to-wear oral appliance to target snoring and sleep apnea. It's also less costly and less cumbersome than other solutions such as CPAP machines.
---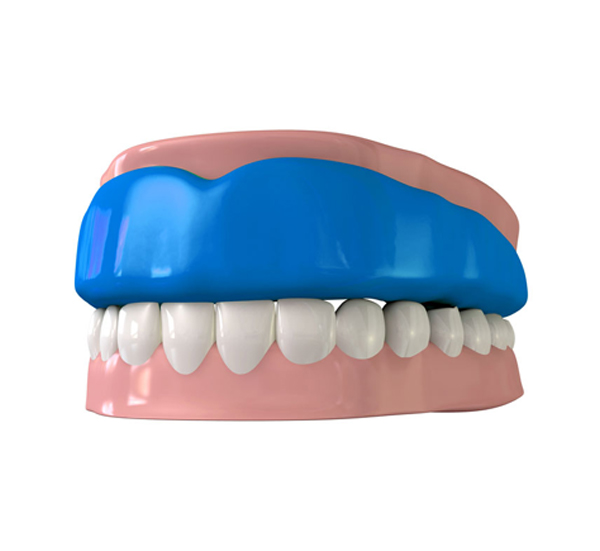 Custom Fitted Sports Guards
Protecting your existing teeth should be a top priority, especially if you're into sporting activities. Dundas Denture provides custom-fabricated sports mouthguards made of soft plastic to protect your teeth while you're being active.
Mouthguards can help you avoid the high costs of dental treatment for a lost tooth over a lifetime, which can be around $5,000. They can also help protect you from jaw fractures and even provide protection from concussions.
If you're involved in any sport where there's a chance of a collision with other players or equipment, you should be wearing a mouthguard. This isn't limited to just what's considered contact sports – it also applies to soccer, baseball, basketball and even gymnastics.
Mouthguards are easy to store and to clean and need to be replaced only every two to three years.
---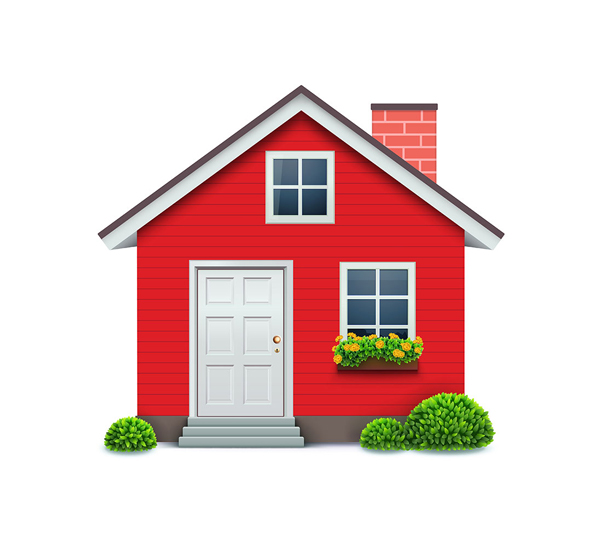 House Calls
If you can't come to the clinic, the clinic will come to you! We provide full denture services in your own house, nursing home, retirement home or hospital. Call 905-627-8478 for details.
---