Denture Implants
IT'S THE CLOSEST in function TO YOUR NATURAL TEETH
Not only will it help to bring back your natural smile, it will give you confidence too!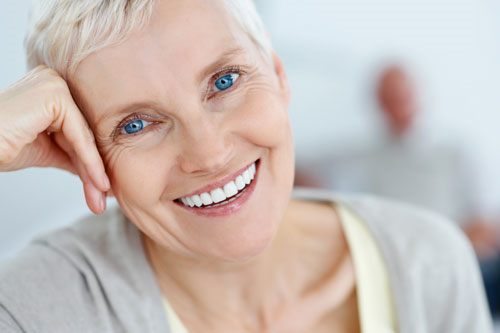 What are Denture Implants?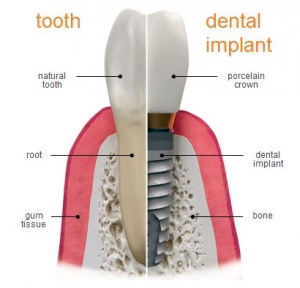 Dental implants are the safest way of replacing missing teeth.
A denture implant is a secure artificial tooth root made of titanium. The post is surgically connected to the jaw bone and acts as an anchor to support the replacement teeth with a denture. It is the closest in function for natural teeth and its an investment into your oral health for years to come. A variety of modern implant-based tooth replacement solutions are available. Ask our Denturist at Dundas Denture Clinic if you are a candidate and to help you identify and choose the right denture implant that is perfect for you!
---
What is the benefit of Denture Implants?
A Lifetime Investment into your health
Comfort
Enjoying your Favourite Foods without worry
Confidence – No lost experiences and embarrassing moments
Preserves Facial Structure and stops chronic bone loss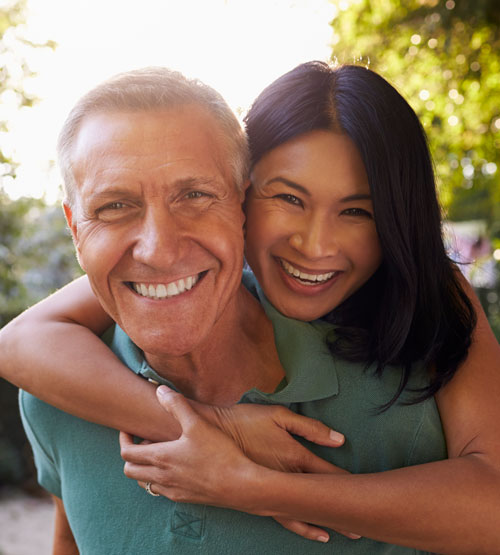 A Lifetime Investment
Implants are there for Life! Once your jaw bone is integrated to the implant and as long as you take care of your implant like a natural tooth with routine care with your denturist, your investment is protected for life.
Comfort & Confidence
As Implants replicate natural teeth, it provides strong and stable fit and function
Mouth sores, tissue irritation or inflamed gums is minimized or a thing of the past
No need for denture adhesive
No pain and discomfort while chewing food
Eat any food you wish without any worry
There is no need to remove your teeth at night
No shifting or clicking when you talk, laugh or eat
Preserves Facial Structure
Restores your natural contour and shape of your face avoids jawbone shrinkage and deterioration due to missing teeth. Missing teeth can lead to bone loss, causing the jawbone to shrink. Bone loss happens when the bone is no longer stimulated by chewing food – something that happens routinely when using natural teeth. A shrinking jawbone leads to physical changes in the face. It can also cause dentures to lose their fit, causing them to slip or even become painful.
---
What are the types of Denture Implants available?
Snap-On Dentures (Dentures over Implants)
Milled Titanium Bar (Implant-Retained Dentures)
All-On-4® Treatment (Fixed Overdenture)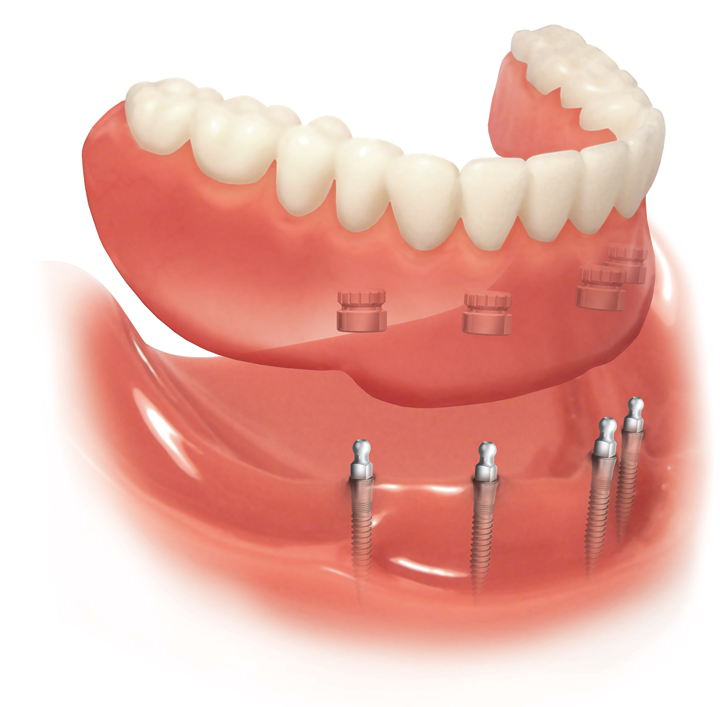 Snap-On Dentures
With the Novaloc® Implant Attachment that has patented pivoting technology, is the premier system for implant-supported overdentures. Recent studies show that a two implant-retained, tissue supported overdenture restoration is considered the new minimum standard of care for patients who lost all of their teeth on the lower jaw. Snap-on Dentures provide stability where new teeth are attached to two or more dental implants. These dentures can be removed for cleaning.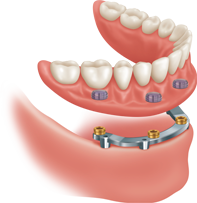 Milled Titanium Bar
Removable implant supported dentures allow for the denture to be snapped into place, but can removed by the patient without needing to visit the clinic. Implants are splinted together with a milled titanium bar, also call bar-overdenture to further stabilize the denture and greatly improve chewing efficiency.
This type of implant denture is beneficial because it can be removed for cleaning at any time. Multiple dental implants are placed in the jawbone and allowed to heal while the bone attaches to the implant. A custom overdenture bar will be attached to the implants to support the overdenture, which will snap into place after it is fabricated in the dental laboratory.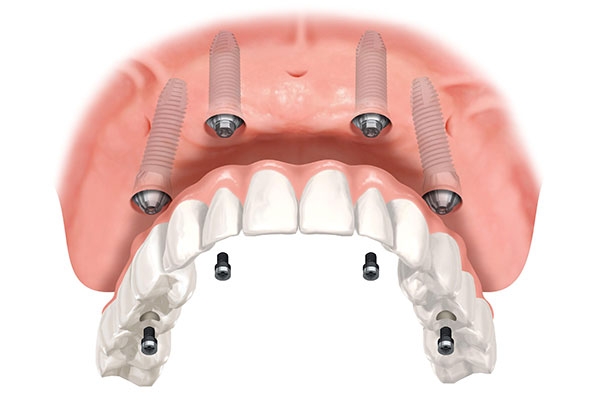 All-On-4® Treatment
A fixed implant overdenture uses the same type of implants as a removable implant denture, but it is fastened in to place using screws. The number of implants vary from patient to patient but generally offers the security of knowing that their denture is secure. After the denture is attached, the holes in the overdenture are covered by the denturist. There is notably less acrylic used than conventional dentures which improves speech and chewing ability. This type of denture does, however, require routine visits to a denture office for removal and cleaning. Talk to your Denturist about which implant-supported overdenture option is most suitable for you.
---
Am I a Candidate for a Denture Implant?
Ask yourself…
Is your loss of teeth causing you premature aging?
Are you limited by restrictive diets or certain foods?
Do you feel limited in keeping an active lifestyle or lost experiences and embarrassing moments?
Is the embarrassment of your dentures falling out stopping you from enjoying a great meal?
Denture implants have been proven to be the most cost-effective reliable solution for patients that feel like this. Patients who have chosen this treatment option find that they are happier and more confident, for the first time since the loss of their natural teeth. Our patients say that they are not only surprised how better then can chew, how confident they feel with their facial look and that they let the fear get in the way of the activities they enjoyed.
Lower denture can be stabilized with as little as two to three dental implants. Upper denture for full benefits can be stabilized with a minimum of four dental implants. For the full advantage of the complete treatment three to four dental implants is recommended for increased stability and chewing function.
How to Get Started…
At Dundas Denture Clinic we work in ensuring that the process of placing dental implants is both painless and stress-free. From your first visit, to attending to your every question or concern, through consultation and procedure, our goal is to leave you with a beautiful confident smile based on precision and high-quality work.
Once we help to identify and choose the right denture implant solution for you, we will send a referral to a Dental Surgeon who we collaborate with. They will determine if you are an ideal candidate to receive the procedure by an examination and taking a diagnostic imaging that is called a Cone-Bean CT Scan (CBCT). If you are a candidate, they will proceed to surgically place the implants.
There will be some healing time after surgery where the implants will bond to the jaw bone. At Dundas Denture Clinic the denturist will either retrofit your existing denture or fabricate a new denture to attach to the implants.
After the completion of treatment at our Dundas Denture Clinic, our patients are often surprised that they let fear get in the way of their lifestyle. They tell us how enjoyable the treatment actually was and they are happy with their choice to go with Implants.
Book a consultation with our denturist today to discover the variety of denture implant solutions available to you.